VENGEANCE ROAD RELEASES TODAY!
If you didn't remember, or you've been living under a rock, today, September 1st, is the day Vengeance Road is released into the wild! HOORAY! The review is forthcoming- I haven't quite finished it yet. But believe me, you'll want to get your hands on this as soon as you can! This is a rarity among YA novels, both in setting and in quality, and I can already recommend it to anyone with a taste for, well, books. SO, without further ado, congratulations to Erin Bowman and WELCOME TO VENGEANCE ROAD!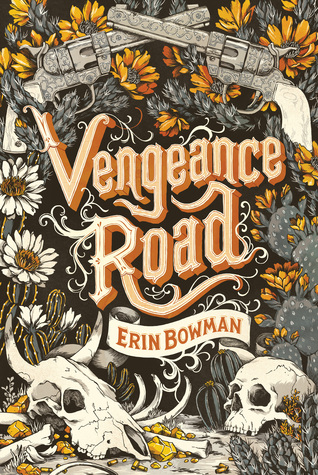 SUMMARY:
When Kate Thompson's father is killed by the notorious Rose Riders for a mysterious journal that reveals the secret location of a gold mine, the eighteen-year-old disguises herself as a boy and takes to the gritty plains looking for answers and justice. What she finds are devious strangers, dust storms, and a pair of brothers who refuse to quit riding in her shadow. But as Kate gets closer to the secrets about her family, she gets closer to the truth about herself and must decide if there's room for love in a heart so full of hate.
In the spirit of True Grit, the cutthroat days of the Wild West come to life for a new generation.
I'M

 

ALSO INCLUDING A

TEASER TUESDAY
As part of the street team for VR, I have been given a teaser every week, and these two sentences are two of my favorites from closer to the end of the book. I know that traditionally, a Teaser Tuesday is a random quote, but it's hard to find a random page in my computer-only copy! So here are two amazing sentences that I think really do encompass the feel of the book.
 You gotta be quicker than quick, ace high, the best.

Far too soon, the sun begins to rise.
There's nothing quite like some dramatic sentences to get you excited for a new novel. I've been in a hardcore slump lately, and I really think Vengeance Road could be the one to bring me out of it. We'll see, anyway! But everyone should definitely check it out, and stay tuned for AN EXCITING OPPORTUNITY later today!