"You gotta be quicker than quick, ace high, the best."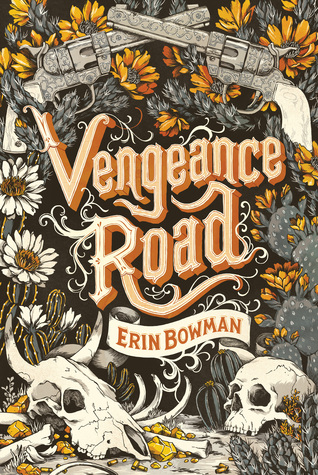 SUMMARY

(DON'T YOU ALL HAVE IT MEMORIZED BY NOW?)
When Kate Thompson's father is killed by the notorious Rose Riders for a mysterious journal that reveals the secret location of a gold mine, the eighteen-year-old disguises herself as a boy and takes to the gritty plains looking for answers and justice. What she finds are devious strangers, dust storms, and a pair of brothers who refuse to quit riding in her shadow. But as Kate gets closer to the secrets about her family, she gets closer to the truth about herself and must decide if there's room for love in a heart so full of hate.
In the spirit of True Grit, the cutthroat days of the Wild West come to life for a new generation.
MY THOUGHTS
PLOT: Thank you, thank you, THANK you, Erin Bowman, for writing a truly diverse YA novel. When you try to find a Wild West YA novel, the closest you can really get is Blood Red Road by Moira Young, or maybe a few others that I can't think of that aren't really the Wild West- they just encompass the feel. But Vengeance Road is authentic to the core, from the characters to the perfectly detailed landscape of Arizona. Kate is bent on vengeance of the gang that killed her Pa, and that theme carries through the book. Unlike many heroines out for revenge, Kate doesn't get sidetracked by boys or fear or doubts in herself. She's got one goal, and that goal is to kill the man who killed her father. The plot only thickens- no, really, it does get thicker-  with the addition of Liluye to their group and then a surprise new character turning the tables. There's a few HUGE twists near the end of the book which I won't spoil for you, and it was AWFUL, but in a good way, because it made the book that much more realistic- no one escapes unscathed. I use these gifs a lot, I think, but it's very apt.
Really, that part also made me 'George Michael'
Anyway, the plot was absolutely delicious- lost gold and revenge and all kinds of cowboy action, just my style. I'll be rereading soon with my HC, no doubt.
CHARACTERS: Another A+ for Erin on this count. What I loved most about Kate, first of all, was that she wasn't afraid to die. She didn't track down the gang with any expectation of coming away unscathed in some miracle- she was ready to die, and whether that was foolish or not, it's up to us individually to decide. But it added so much depth to the story- you could focus on what was happening, rather than all her insecurities, because she didn't have any past wondering if she would be able to find the Rose Riders at all. She didn't want the gold, she didn't want the fame- she just wanted to avenge her father, and that was it. She's fantastic- all fire and just the kind of gritty heroine that a western novel needs, without being mannish. She's still a girl, after all, with feelings and emotions, and I related to her really well.
The Colton Brothers, Jesse and Will, were absolutely swoon worthy. Cowboys are my number 1, and to have TWO of them in this book made my day. I loved the dynamic between the two, and even with that huge surprise at the end, it still only made the feelings more real. And broke my heart. Anyway, in case you were wondering, there isn't a love triangle, which I was a little bit worried about, to be honest. But there wasn't, and the romance is slow-building and real and you just get those squiggly feelings inside you whenever there's a glimpse. I actually think I might have liked Will more than Jesse, just because…well, I don't know about that. They're both fabulous, and I don't know if I could pick one or the other because they're so wound up in each others' personalities.
The villains were ruthless and mercenary, just like you would expect from an outlaw gang. I appreciated the distinction they were given, and the fact that Waylan Rose wasn't some mist that they were chasing- he was real, and he appeared many times, and he was stronger than Kate.
The rest of the characters that you only glimpse for a few moments- Liluye (linked above), Jacob Waltz, and others, really added to the dimension of the novel.They were strong presences, especially Liluye, and though they didn't stay long in the novel, you were left with a clear picture of who they were when they were mentioned again, even in passing.
WHAT TO WATCH: I wouldn't recommend this for younger readers- while it isn't graphic, per se, there's some scenes that might be upsetting to a younger audience. There is language throughout, words that the gunslingers of old used frequently, and it lends to the authentic feel of the story. Other than that, this book is a great read, and for the right reader, it could easily break into a favorites list.
OVERALL: Five stars. I loved this book. I do wish that the ending felt less abrupt- there was a lot going on, and it seemed like it could have been drawn out into more of the book. Especially the final, most important plot twist was a little bit abrupt and unexpected- I would have liked to see hints of that more through the book. Maybe I did and I just missed it- I was sick yesterday when I read it. But I really did love everything else about this book, and I would recommend it to everyone, not just those who love Westerns.
Thanks to HMH and NetGalley for my ARC of Vengeance Road, released September 1, 2015!
Questions? Comments? Books you'd like me to review? Post a comment below and I'll be sure to check it out!