I SIT….AND WAIT…..AND WAIT….
Can I just do Illuminae again? Because really, that's the only book I can see in my future. Until I get to November, and I realize why I'm just desperate for fall to be here. Not only will we be getting our hands on the gorgeous Illuminae, we will also FINALLY be getting our hands on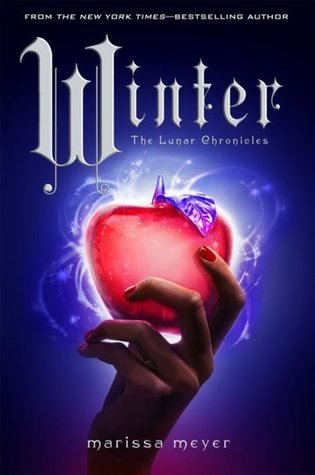 Princess Winter is admired by the Lunar people for her grace and kindness, and despite the scars that mar her face, her beauty is said to be even more breathtaking than that of her stepmother, Queen Levana.

Winter despises her stepmother, and knows Levana won't approve of her feelings for her childhood friend–the handsome palace guard, Jacin. But Winter isn't as weak as Levana believes her to be and she's been undermining her stepmother's wishes for years. Together with the cyborg mechanic, Cinder, and her allies, Winter might even have the power to launch a revolution and win a war that's been raging for far too long.

Can Cinder, Scarlet, Cress, and Winter defeat Levana and find their happily ever afters?
Everytime I think about it being so close I get
Sorry. I'll calm down.
NOT.
SO WHY AM I SO EXCITED?
The Lunar Chronicles is only one of my favorite series ever. I mean, no big deal. Winter is only the 800 page conclusion to this amazingness. EIGHT HUNDRED PAGES. Nothing could make me more excited. Nothing. Unless maybe there being another book, but that won't happen.
Anyway, I'm looking forward to getting to know Jacin a whole lot better, and also (SPOILER) Wolf and Scarlet being together again because WHERE WAS THAT IN THE ENTIRETY OF CRESS, HMMMM?! (END SPOILER). But as you've seen from this "Secret Life" post from Monday, I love Jacin with wholly unrepentant adoration that burns like the fire of 1000 suns. What can I say? I like blondes.
But even more than that, I've never been disappointed by an LC book. Terrified, yes. Heartbroken, yes. Stabbed in the heart with 10,000 feels, yes. But never disappointed.
So here's to Marissa Meyer for consistency- I really hope Winter lives up to my expectations.
What are you looking forward to this week? Are you as excited as I am for Winter? Post a comment!