"Courage…is the quality which guarantees all others." – Winston Churchill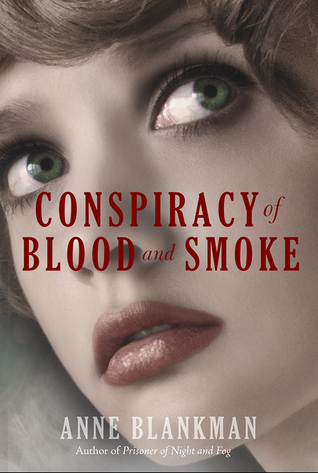 OFFICIAL SUMMARY:
The girl known as Gretchen Whitestone has a secret: She used to be part of Adolf Hitler's inner circle. More than a year after she made an enemy of her old family friend and fled Munich, she lives with a kindly English family, posing as an ordinary German immigrant, and is preparing to graduate from high school. Her love, Daniel Cohen, is a reporter in town. For the first time in her life, Gretchen is content.
But then, Daniel gets a telegram that sends him back to Germany, and Gretchen's world turns upside-down. And when she receives word that Daniel is wanted for murder, she has to face the danger she thought she'd escaped-and return to her homeland.
Gretchen must do everything she can to avoid capture and recognition, even though saving Daniel will mean consorting with her former friends, the Nazi elite. And as they work to clear Daniel's name, Gretchen and Daniel discover a deadly conspiracy stretching from the slums of Berlin to the Reichstag itself. Can they dig up the explosive truth and get out in time-or will Hitler discover them first?
MY THOUGHTS:
Everyone needs to read this book right now. Go to your library, get your kindle, hit up amazon.com, whatever. Read it. Superbly written and researched, this book instantly topped my favorites list. Blankman has done an amazing job reconstructing 1930's Germany, and this one was even more suspenseful and thrilling than Prisoner of Night and Fog, where we are first introduced to Gretchen and Daniel.
I will admit, my heart was broken a few times, and I don't know if I have ever been so terrified reading a book as I was reading Conspiracy. It was a compelling read, though, giving us a look into the struggles of those associated with Hitler's regime and really illustrating how cunning Hitler really was, manipulating unconnected events to garner support for his party- and ultimately, for his plans to start a war. I've never enjoyed books about this time period because I find to be simply too terrible to think about- that time was one of suffering and hate, and I don't like to dwell on it. However, Blankman's cast of characters pull you in, and the raw historical accuracy is irresistible. From the Reichstag fire to the Ringverein gangs, each well-researched detail adds a new piece to the puzzle of the turbulent times before Hitler took power over Germany.
As for Gretchen- well, I applaud her. There are very few books where the heroine doesn't irritate me with her actions at least a few times, but this was one. Gretchen was willing to close down her emotions and do what had to be done without being asked, without complaining, with the utter selflessness that comes only from a person with true love for their friends, their family, and their fellow man. So many obstacles were thrown in her way, but even forced with the truth about her father and the desolation of losing the ones she loved, Gretchen pushed on, determined to save her homeland from the Nazi menace. Her loyalty to Daniel never wavered, even with his injury, and she only wanted him to be happy, doing what he loved with or without her. I can easily say that she was a fantastic main character for this story.
And Daniel- oh, Daniel, my dove, my angel, my warrior. I adore him. He had even more obstacles than even Gretchen- he stood accused of murder, his homeland was overrun with men who wanted him killed simply because of his race, his family disapproved of the girl he loved, and above all, his arm was torn to pieces by an injury while he was on the run. Any man with so much weight pushing him down would be well justified in letting someone else deal with the most hateful man in the world, but Daniel refuses. He decides instantly to go back to Germany himself and clear his name, leaving Gretchen behind in safety (even though she goes after him like true love demands). I love Daniel for different reasons than I usually love a hero- he's smart and brave, thinks on his feet, and doesn't even let Gretchen tell him what he can and cannot do.
As for the secondary cast, I must say that I loved them as well. The Ringverein especially, a gang of crooks that spread across Germany, dangerous enemies of the National Socialist (Nazi) party. "Iron Fist" Friedrich and his bunch are the perfect example of how the lines between right and wrong and good and bad blur when a nation is undergoing such trials as Germany in the 1930's. They, in essence, are the rebels, fighting 'the man' or 'the power' but not in the misguided way that most people do today- these men were fighting Hitler's engulfing reach and the way he ripped power from every corner. They did what was right in their own way, and I was sad to see them attacked (although the realistic nature of the book made it, really, necessary).
All in all, the only thing I can really think to say is this: Conspiracy of Blood and Smoke is one of the best books I have ever read, not only for the plot, but for the characters, the amazingly detailed historical facts, and the intensity of Blankman's writing. And even for that little twist at the end that I will not think about because it made me cry. It all worked together to create one action-packed, breathtaking novel that keeps you in its grip long after the last page. Well done, Anne. Well done.
WHAT TO WATCH:
Although I highly recommend this book, it is only to mature readers with a strong stomach. Some of the realities of German life at that time are hard to swallow- men being beaten in the streets, people being shot only for having an opinion, poor girls working the streets as prostitutes and using cocaine to escape the reality of their lives. Although the prostitution and drug use are only touched on a few times, they do keep company with one of the girls who belonged to that lifestyle and she does snort cocaine a few times in the presence of Gretchen. I wouldn't give this book to a young person to read, I don't think, because that time really was horrible, and the research done means it's accurate- even for me, that realization was a little bit overwhelming at times. Even so, I want as many people as possible to read and love and talk about this book that illustrates not only the strength of individuals, but also the resiliency of the human spirit.
Questions? Comments? Books you'd like me to review? Post a comment below and I'll be sure to check it out!