"You should know the difference between secrets and lies."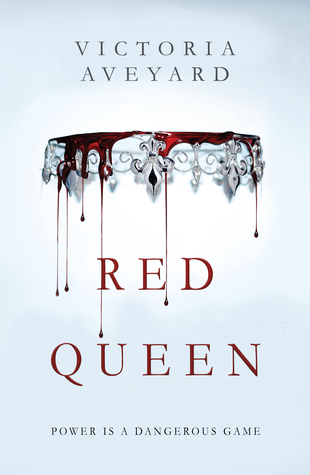 Official Summary: (goodreads.com)
The poverty stricken Reds are commoners, living under the rule of the Silvers, elite warriors with god-like powers. To Mare Barrow, a 17-year-old Red girl from The Stilts, it looks like nothing will ever change. Mare finds herself working in the Silver Palace, at the center of those she hates the most. She quickly discovers that, despite her red blood, she possesses a deadly power of her own. One that threatens to destroy Silver control. But power is a dangerous game. And in this world divided by blood, who will win?
My Thoughts: I enjoyed this book. I really did. The writing was smooth, the idea of it was so magnificent, the setting was gorgeous and well-defined…so why don't I remember it? The simple fact is that while everything else twisted and wove through the story like milk and honey, the characters fell flat for me. Mare, our heroine, is too…bland. Something about the way she reacts to every situation seems too little, too late, and she isn't as striking as she needs to be to make this story work. I thought better of the Scarlet Guard members, but they appeared too infrequently, and when they did, it seemed as though they faded within just a few pages. And the princes. Oh, how I wished them to be more than they were. My hero was dull and never really did anything too heroic, which soured this book for me, because while I love a rip-roarin' heroine, I like it better when she has a hero to keep her motivated, even if it's not because he's her hero. And his brother wasn't much better, not until the very end, anyway, all pale and quiet and inconsequential in the heat of his brother and Mare's chemistry.
But the writing aside from that was very good, descriptive without drowning you, giving you enough to imagine but not taking the fun out of it. And I did really like the premise and the execution of the storyline, but for me to be interested in the rest of the trilogy, I need the characters to come to life, and they didn't do that for me.
What to Watch: (Spoilers!)
Honestly, in terms of what to watch, it's pretty much nothing or everything depending on your perception. To me, the Silvers had simply mutated, developed abilities and then developed their own elite society, so those traits became stronger. Other people perceive it as magic. If that's the case, this book is a huge no-no, because that's the premise and the story revolves around these powers.
Other than that, you may want to be cautious of the violence- though it only appears sporadically, it does include torture and sometimes death, and it can be gruesome to those with a tender stomach. But that, you might be able to discern from the cover- a silver crown dripping blood, representative of the red blood of Mare infiltrating the Silver domain.
Overall, I liked this book, and would have loved it if the characters didn't feel so forced. So bland. But that, of course, is only my opinion, and I would love to hear yours!
Questions? Comments? Have a book you'd like me to review? Post a comment below and tell me what you think!
 UPDATE: NOW A #1 NEW YORK TIMES BESTSELLER! Congratulations, Victoria Aveyard!!!
Update 2.0: I don't know how I liked this book. Looking back, attempting a reread, I think I must have been blinded by hype, swept up in how other people feel. Because I hate this book. It bores me to tears, and the characters still have no flavor. I was going to try Glass Sword, but I get the feeling it's not much better. Yikes.