I finally finished my first book for the Series challenge! I'm almost positive I'm not going to finish the whole series before the month is over, but I've been doing pretty good reading this month, at least. I finish my TBR book for January, which is exciting, and I'm going to have the house to myself this weekend, so that could be promising for some serious reading! But anyway, I wanted to throw up a review of The Darkest Minds, the first book of Alexandra Bracken's series of the same name.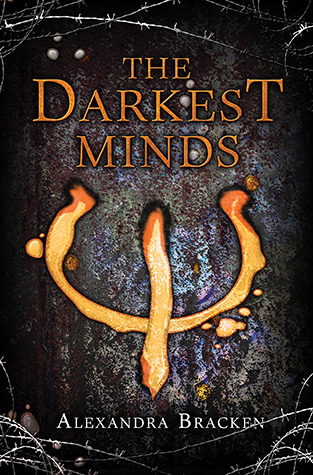 SUMMARY
When Ruby woke up on her tenth birthday, something about her had changed. Something frightening enough to make her parents lock her in the garage and call the police. Something that got her sent to Thurmond, a brutal government "rehabilitation camp." She might have survived the mysterious disease that had killed most of America's children, but she and the others emerged with something far worse: frightening abilities they could not control.
Now sixteen, Ruby is one of the dangerous ones. When the truth comes out, Ruby barely escapes Thurmond with her life. She is on the run, desperate to find the only safe haven left for kids like her—East River. She joins a group of kids who have escaped their own camp. Liam, their brave leader, is falling hard for Ruby. But no matter how much she aches for him, Ruby can't risk getting close. Not after what happened to her parents. When they arrive at East River, nothing is as it seems, least of all its mysterious leader. But there are other forces at work, people who will stop at nothing to use Ruby in their fight against the government. Ruby will be faced with a terrible choice, one that may mean giving up her only chance at having a life worth living.'
THOUGHTS
Okay! I finally read The Darkest Minds, and it only took me three years to do it. Three cheers! Well, I'm happy, anyway. So, I gave it 4 stars for mainly this reason: I thought it was a great book, really chunky and interesting (I binged it in a day), but I was really confused through a lot of it. I couldn't figure out why she was so upset about  being what she was. I thought it was really cool, and an advantage, but about halfway through the book when you find out what her powers did, I understood. But I didn't quite get it at the beginning. Also, the action sequences came hard and fast, which I would usually love, but since my brain was still trying to figure out what Ruby's deal was, I ended up being confused even more. Of course, I was also sick, and that could have contributed to it. 
In any case, I did really like this book, especially when I got everything straight in my head. I loved the slow-burn romance (I am NOT happy about the ending), I loved the secondary characters- Zu especially- and I didn't predict much of what happened. There were some things that you could kind of see coming, but I'm not one for trying to figure out a book before I read it- I just let the book carry me along, for the most part, unless it's super obvious. So I liked that part of it. I thought all the character development, especially Ruby's, was really good, and I can't wait to see where Alexandra takes her in Never Fade, book two. 
WHAT TO WATCH
That was another bonus for this book- it was exciting, fun, had a romance, but there was nothing to make it inappropriate for younger teens. Aside from some violence (which was never graphic) this book was clean and appropriate for everyone. I would recommend it even for younger teens who are looking for a thicker book that tackle.
So there it it! Book one is done, now on to book two!