"If you won't be my friend, you'll regret being my enemy."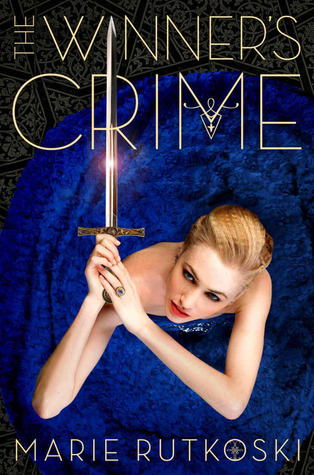 Official Summary: (From goodreads.com)
The engagement of Lady Kestrel to Valoria's crown prince means one celebration after another. But to Kestrel it means living in a cage of her own making. As the wedding approaches, she aches to tell Arin the truth about her engagement…if she could only trust him. Yet can she even trust herself? For—unknown to Arin—Kestrel is becoming a skilled practitioner of deceit: an anonymous spy passing information to Herran, and close to uncovering a shocking secret.As Arin enlists dangerous allies in the struggle to keep his country's freedom, he can't fight the suspicion that Kestrel knows more than she shows. In the end, it might not be a dagger in the dark that cuts him open, but the truth. And when that happens, Kestrel and Arin learn just how much their crimes will cost them.
My thoughts: I think my mistake was reading it so soon after finishing the first one. Because after the wonder of The Winner's Curse, what wouldn't pale in comparison? I'm sorry to say that this one was just less thrilling. As a reader, I often felt overwhelmed with the sheer number of new events when there was no resolution to the first one. Or any following. I feel as though Rutkoski wanted to keep me on the edge of my seat, but she lost me in the continuing upward spiral of new revelations, when I hadn't fully understood what came before.
    I think my biggest issue with this book was that fact- something new happened every few pages, and you never really knew why, and then there were few satisfying answers to questions that you first had while reading book one. I left book two feeling a little lost and sort of sad- I had expected more from the sequel of the book that made time explode (see the review of The Winner's Curse).
    Additionally (and obviously this was a personal issue), I wish there had been just one moment where Arin and Kestrel were in sync, or some kind of peace between them. But all there was was mistaken hatred and anger and hurt. Even the letter explaining everything at the end of the book from Kestrel to Arin was lost, so he left thinking that she hated him (words borne of necessity because an enemy was listening) and she was swept away to the north without him knowing.
     Honestly, I would have enjoyed this more if I hadn't read The Winner's Curse and immediately picked up The Winner's Curse. But that's the way I read them, and this is how I felt- you may have felt differently, so let me know!
What to Watch (SPOILER alert):
     Really, the only thing worth mentioning in this is the violence. A spy is tortured, people are killed, and it's no secret how they died. While it isn't graphic, it may not be the best choice for younger readers. In addition, it does concentrate a bit more on the war Kestrel's father is fighting in, and she offers up tactics to win battles in the east. Arin is attacked, and his face is cut open, which could be disturbing to some readers.
     Additionally, (and this was very minor) Arin is kissed once, propositioned once, and nearly lets the women have what they want, but stops himself in time. There is a slight description of these events, but nothing too serious.
     I liked this book, and I will be looking out for the third and final book in the trilogy, The Winner's Kiss, but I wish there would have been more satisfactory resolutions to some of the issues brought up.
Questions? Comments? Have a book you'd like me to review? Post a comment below and tell me what you think!