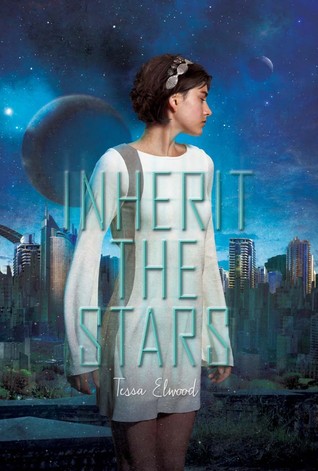 SUMMARY
Three royal houses ruling three interplanetary systems are on the brink of collapse, and they must either ally together or tear each other apart in order for their people to survive.
Asa is the youngest daughter of the house of Fane, which has been fighting a devastating food and energy crisis for far too long. She thinks she can save her family's livelihood by posing as her oldest sister in an arranged marriage with Eagle, the heir to the throne of the house of Westlet. The appearance of her mother, a traitor who defected to the house of Galton, adds fuel to the fire, while Asa also tries to save her sister Wren's life . . . possibly from the hands of their own father.
But as Asa and Eagle forge a genuine bond, will secrets from the past and the urgent needs of their people in the present keep them divided?
Author Tessa Elwood's debut series is an epic romance at heart, set against a mine field of political machinations, space adventure, and deep-seeded family loyalties.
THOUGHTS
I'll be completely honest- I didn't remember a lot about this book when I started it and since I hadn't heard a lot, I didn't expect much in terms of 'Everyone says I'm going to love it!'
All of that was blown away.
The writing was amazing- not in the fantasy-elegant way that we've been seeing a lot of, but clean, fast, and engrossing. The characters- oh, my heart. Each one was round, dynamic, and nothing you could call stereotypical. There was good and bad in each of them, and you never could quite tell which was going to take over in any given situation.
Every time I thought the plot was going to veer in a direction that most stories of this kind do, it changed, twirling off into a completely different universe and making me excited and surprised all over again.
The romance is understated, subtle, and presses ever closer before you realize it, because you've been holding your breath waiting for the other shoe to drop on Eagle and Asa. Gosh, Eagle. Imperfection and wonder in a gorgeously damaged being- but not damaged like you might think. I won't ruin the surprise, but don't think that it's another of those messed-up relationships where the girl still loves the guy even though he's awful. No, the romance sets the background and keeps everything in motion even when you don't think it will, and has that sort of quiet tension without 80 pages of teenage angst. I loved it. LOVED IT.
Inherit the Stars is a book I'm already eager to read again, and if there's no more, I'll be crying, for sure. I've fallen in love with the characters, the universe, and the potential for greatness only hinted at in the first book. Five stars, wholeheartedly.
Release Date: December 8, 2015 by Running Press Kids
I was provided a digital ARC of this book before the release date through NetGalley and Running Press Kids, but this in no way affected my review of the work.