"Most of the time when we think we're looking for death, we're really looking for love."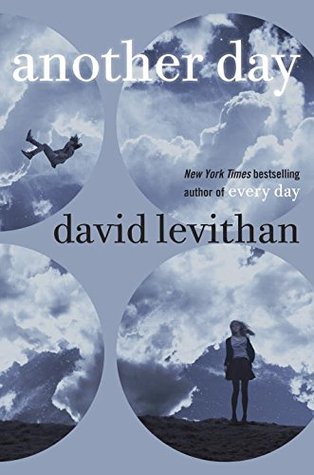 SUMMARY
Every day is the same for Rhiannon. She has accepted her life, convinced herself that she deserves her distant, temperamental boyfriend, Justin, even established guidelines by which to live: Don't be too needy. Avoid upsetting him. Never get your hopes up.
Until the morning everything changes. Justin seems to see her, to want to be with her for the first time, and they share a perfect day—a perfect day Justin doesn't remember the next morning. Confused, depressed, and desperate for another day as great as that one, Rhiannon starts questioning everything. Then, one day, a stranger tells her that the Justin she spent that day with, the one who made her feel like a real person…wasn't Justin at all.
In this enthralling companion to his New York Times bestseller Every Day, David Levithan tells Rhiannon's side of the story as she seeks to discover the truth about love and how it can change you.
MY THOUGHTS
I don't know how to get into this. I really enjoyed Every Day, way back when it first came out and I didn't know anything about the story. I remember loving A, loving Rhiannon, loving the bittersweet, unsatisfactory ending that left me wanting more, but not too much more. I wanted to know if he ever got to have his own body, and if Rhiannon found someone else to love, because loving A was impossible.
Then I found out Another Day was a thing. I was excited, yes. Nervous, yes. But this was not at all what I had expected, or wanted, from it. I didn't think I would have such a problem with seeing the story from Rhiannon's point of view, but her story took all the romance and mystery out of it for me. In fact, I don't know why A liked her at all. She's a complete stereotype, and without sounding insensitive, I can't go into why. Suffice to say that I don't like people who can't stand up for themselves, who let themselves be trampled all because they don't think they're worth enough to be treated right, and I certainly don't want to read about them.
The entire book, after every encounter with Justin, I felt more angry with Rhiannon, and after every encounter with A, I was more confused as to why he was so determined to be with her. It just didn't make sense, unless A has some kind of hero complex.
In addition, I found this book to be less about the story of A, Rhiannon, and the mystery of why A changed every night and more about the ever more controversial subject of gender and the role it plays in relationships. Too many long monologues about why 'gender doesn't matter' and 'love covers all' for me to be comfortable, because to me, gender does matter.
But I digress. Another Day fell flat for me, and I'm sorely disappointed that it ended in the same place as Every Day, with far fewer answers and far more questions.
WHAT TO WATCH
Oh, you know. Homosexuality and transgender characters abound, so if you don't approve of that, I wouldn't pick this one up. Heterosexuality is also casually thrown in, with sex happening frequently. There is underage drinking and partying, and drugs are mentioned a few times. I wouldn't recommend this for those with a sensitive conscience, and definitely not for young readers.
OVERALL
I'll give Another Day two stars for the writing style- it kept pace, for the most part, and rarely dragged, though I did skim some. But I didn't like the content- I'm not interested in reading about people, knowingly or not, experiment with their sexuality while at the same time be driven into depression and desperation by their boyfriend, his actions, and their unwillingness to step away from the situation. To me, Rhiannon was the bad guy, and I know that wasn't the point of the book, but that's where it ended up for me.
I received an ARC of this book thanks to NetGalley and Random House. This has not influenced my review in any way.