ARC AUGUST #1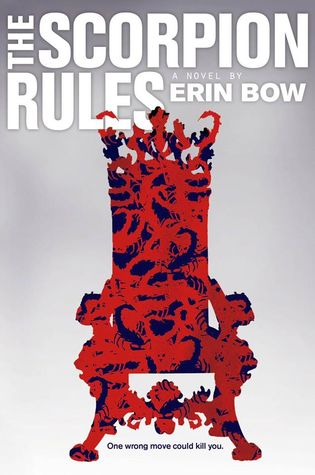 Thanks to Simon & Schuster
ARC through Netgalley
The Scorpion Rules to be released September 22, 2015
I'm calling this another 'book I can't review,' and this time it's because I was so annoyed I couldn't finish it. If I don't finish, I can't call this a real review. But I'm still going to tell you why, and what to watch.
THE CHARACTERS: I can't even tell you how irritating they were .The only one I liked was the non-human overlord- at least he added some dimension. The rest were interchangeable- characters to add bulk that didn't add anything to the story. I learned a hundred names and then got them all confused. Each character could have been so distinct and grabbing, especially the rebel Elian, but no. There was 0 dimension to their personalities. They all acted like frightened children up to the point I read. I mean, technically they're kids, and their lives are in danger, but their lives have been in danger since they were born. Get used to it.
At any rate, I felt a major disconnect with the characters. They earned my disgust instead of my loyalty, my wrath instead of my love, and that will kill a for me book very, very quickly. If I don't love the characters, I can't love the story.
THE SETTING + PLOT: I did enjoy the world-building- it was a very well thought out plan and the descriptions were really interesting- it was almost a believable world that Bow created for readers. The plot, however, was sorely lacking. I read several chapters and skimmed even more, and nothing happened outside the school that they live in. The most exciting thing that happened was a goat getting loose and climbing a tree- I mean, you've created this whole world, and you don't let us explore it? The plot really fell flat for me, which I find is happening a lot in these majorly hyped books. I'm obviously not in the majority, but I just couldn't finish this book. Here's why
WHAT TO WATCH:
/SPOILERS/
There's a love triangle. A bad one, one that's not well-developed and not well-executed, but the fact remains. And it's a F/F/M triangle- by which I mean the main character, Greta, is 'in love' with a boy and a girl.
This, I simply do not read. Besides the fact that it was terribly written, I don't read LGBT material- to be perfectly honest, it creeps me out a little bit. And too, in this particular instance, for the first half of the book Greta is all about that boy and his perfect hair and perfect face and she'll do ANYTHING for him. But then, in 2.5 seconds, she's suddenly in love with her (female) roommate, who is her everything! She can't live without her! It's just too hard to bear!
Please. Spare me the insta-love. Spare me the badly written characters and choppy love triangle. This book gets 0 stars from me- or 1 star if I have to rate it at all. The premise was interesting, but the execution falls totally flat.
ARC August isn't off to a very good start for me. I'm hoping that my next book will be better.
Questions? Comments? Books you'd like me to review? Post a comment below and I'll be sure to check it out!