THRILLS, CHILLS, AND DESPERATION. 
It's Wednesday again, and that means another book I'm excited for! Hooray! This week we're changing it up a little bit. I've been doing a lot of fantasy/sci-fi lately, so here's a contemporary with an amazing cover to give us some spicy variety: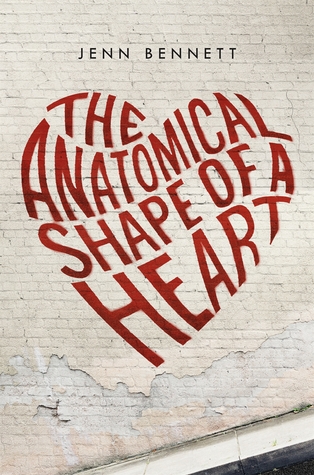 That's right: The Anatomical Shape of a Heart comes to us November 20, 2015, and that cover is seriously just perfection, don't you think? Simplicity has never looked so attractive. Neat fact: It will be published under the title Night Owls  in the UK in August (jealous!!)
SUMMARY (GOODREADS)
Artist Beatrix Adams knows exactly how she's spending the summer before her senior year. Determined to follow in Da Vinci's footsteps, she's ready to tackle the one thing that will give her an advantage in a museum-sponsored scholarship contest: drawing actual cadavers. But when she tries to sneak her way into the hospital's Willed Body program and misses the last metro train home, she meets a boy who turns her summer plans upside down.
Jack is charming, wildly attractive . . . and possibly one of San Francisco's most notorious graffiti artists. On midnight buses and city rooftops, Beatrix begins to see who Jack really is—and tries to uncover what he's hiding that leaves him so wounded. But will these secrets come back to haunt him? Or will the skeletons in Beatrix's own family's closet tear them apart?
WHY I WANT IT
Because who wouldn't?! Every sentence of this summary made me ever more excited to get my hands on TASOAH. (Except man, even that acronym is long!). I love graffiti, I love art, I love night expeditions, and the flavor to me was that of The Butterfly Clues by Kate Ellison (without all the murder and such) which I absolutely loved. But anyway- street art to me is fascinating, and I love little clues into their way of living. Of course, a romantic, angsty fall read is always something to look forward to, as well, and I can't wait for this one.
Questions? Comments? Books you'd like me to review? Post a comment below and I'll be sure to check it out!