SO THIS IS THE DEAL
I love swag. Book swag, they call it. By which 'they' (authors, other book people, everyone) mean book-promoting items that are not books themselves. Book swag is sent to people for various reasons by various means- signed cover prints, bookmarks, buttons, stickers, etc. Really anything related to a particular book that is not the book itself. This week, I received my FIRST EVER book swag. It's amazing.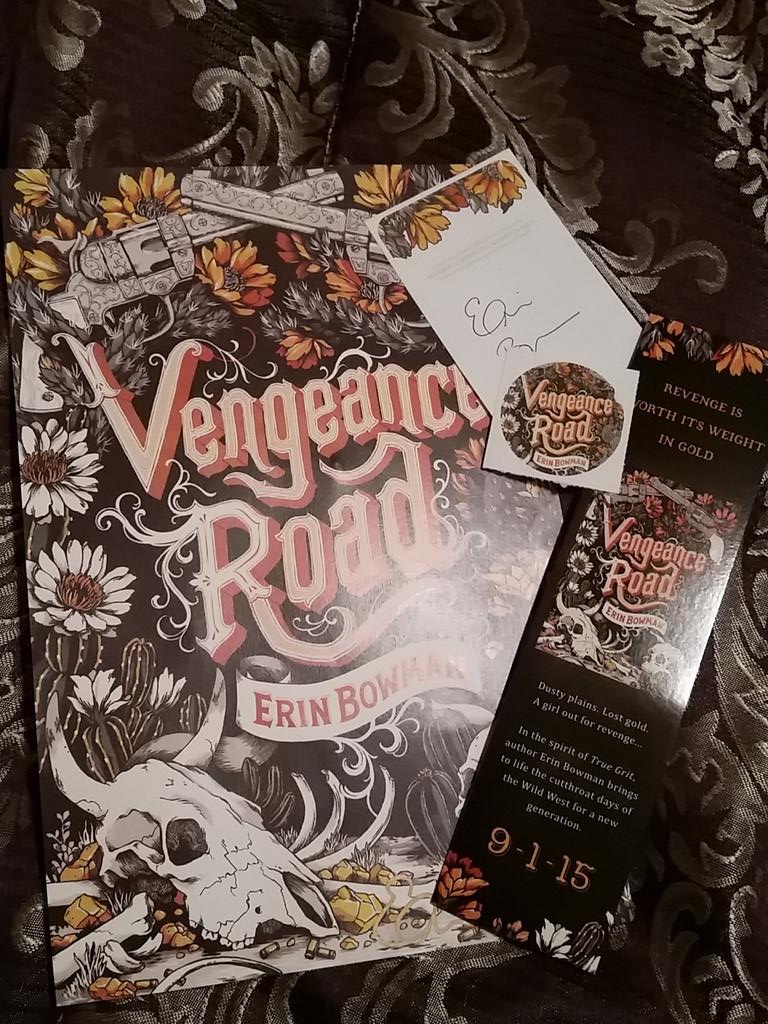 Okay, it's not a great picture. There's a glare everywhere, but I think you all get the point. This is really one of the most exciting things of my life- and now I realized that I've lied by telling you that I hadn't received any other swag. I did-  the wonderful Katie McGarry sent her fans some great bookmarks and ribbons just for being fans.
     But to me, this is much more personal.
LET ME TELL YOU WHY
  This swag comes as a result of a very special initiative that I'm involved in, for a very special book. That's right, you guessed it- Vengeance Road. I'm so, so excited for this book. I have it on my computer for ARC August and I cannot WAIT to get into it. Gritty, dangerous, and totally real, it's exactly what I want- a YA Western.
    So yes, I'm part of the Vengeance Road Posse, the street team for this very excellent book. In June, I was one of the most enthused about it and I won that gorgeous signed cover print- and for being on the team, I received everything else pictured. Two really neat stickers and a bookmark, which is AMAZING. I love bookmarks SO MUCH. And now, here is the story of receiving this swag, one gif at a time.
MADE IT ON THE STREET TEAM
FOUND OUT WE'RE GETTING SWAG
IF WE TALKTALKTALK ABOUT VENGEANCE ROAD, WE COULD GET MORE SWAG
JUNE
You:
Me: (except, instead of Java, VR)
WINNING:
RECEIVING PRINT:
ONE WEEK LATER RECEIVING STREET TEAM SWAG PACK:
That last one pretty much says it all. I've been in fangirl mode ever since, and I will continue to fangirl mode until I'm told to stop on pain of death. So get excited, everyone!!!! Get some swag for yourself by preordering- but hurry! The offer only lasts until July 31st!
Here's the link: Click here!!
Also, in case you missed it, here's some more info about Vengeance Road:
Erin Bowman's Author Spotlight
Waiting on Wednesday: Vengeance Road
The Character Reveals:
The book trailer (it's seriously SO good)
Or Erin Bowman's Twitter– for all the latest updates!
I know you all don't blame me for being excited- because you've all felt this situation!
LET'S
GET
PUMPED! 
I love you all. Thanks for reading. Post a comment 😉