GET READY FOR SOME SCI-FI
This is a novel that I seriously CANNOT wait for. The story of warring intergalactic mega-corporations and the two people who have to bring everything to light, this book has been on my TBR list for like, 800 years. Well, as soon as I saw it on goodreads, anyway. Let me show you the beautiful cover of this one, coming to us October 20, 2015 from Amie Kaufman and Jay Kristoff: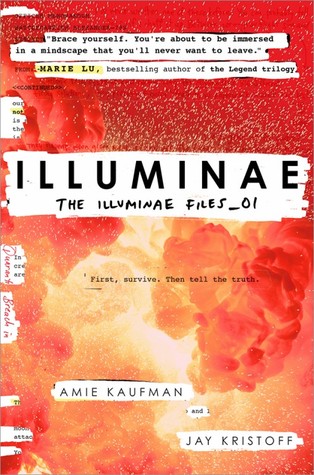 IS THIS COOL OR WHAT?
HERE'S YOUR SUMMARY (GOODREADS)
This morning, Kady thought breaking up with Ezra was the hardest thing she'd have to do.
This afternoon, her planet was invaded.
The year is 2575, and two rival megacorporations are at war over a planet that's little more than an ice-covered speck at the edge of the universe. Too bad nobody thought to warn the people living on it. With enemy fire raining down on them, Kady and Ezra—who are barely even talking to each other—are forced to fight their way onto an evacuating fleet, with an enemy warship in hot pursuit.
But their problems are just getting started. A deadly plague has broken out and is mutating, with terrifying results; the fleet's AI, which should be protecting them, may actually be their enemy; and nobody in charge will say what's really going on. As Kady hacks into a tangled web of data to find the truth, it's clear only one person can help her bring it all to light: the ex-boyfriend she swore she'd never speak to again.
Told through a fascinating dossier of hacked documents—including emails, schematics, military files, IMs, medical reports, interviews, and more—Illuminae is the first book in a heart-stopping, high-octane trilogy about lives interrupted, the price of truth, and the courage of everyday heroes.
CAN YOU SEE WHY I'M EXCITED?
Amie Kaufman is one half of a duo (with Megan Spooner) that write my absolute FAVORITE YA science fiction- These Broken Stars and This Shattered World- and book three, coming in December, will be on my WoW list, you can be sure. Her books are so well-written and the worlds so immaculately detailed that you can't help but imagine living on them yourself. And the twists! The twists, oh my, they're so amazing and heartstopping and everything else you want in a twist.
So you can see, as a science fiction lover, how I would be super pumped about this newest series, coming to us from two sides, coming from an established sci-fi presence in the YA world. However, I am a little worried, because on Jay Kristoff's goodreads profile it states that he does not believe in happy endings. Well, I do. There are very few unhappy endings that I approve of- killing your MC off is a lazy way to end a book, people!
Anyway, I'm really excited to see this new series (NetGalley is killing me, making me wait) and tell you guys all about it, and I hope you;ll take a look now that it's been brought to your attention!
Goodreads | Amazon | Barnes & Noble
Questions? Comments? Books you'd like me to review? Post a comment below!