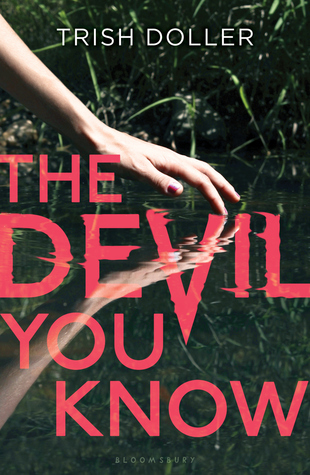 HERE'S THE SUMMARY
 Eighteen-year-old Arcadia wants adventure. Living in a tiny Florida town with her dad and four-year-old brother, Cadie spends most of her time working, going to school, and taking care of her family. So when she meets two handsome cousins at a campfire party, she finally has a chance for fun. They invite her and friend to join them on a road trip, and it's just the risk she's been craving-the opportunity to escape. But what starts out as a fun, sexy journey quickly becomes dangerous when she discovers that one of them is not at all who he claims to be. One of them has deadly intentions.
Advanced Reviewer copy provided by Netgalley and Bloomsbury USA Children's- Thanks!
MY THOUGHTS
I'll be honest- I expected a lot from this book. Something Like Normal, another of Trish Doller's books, is one of the best books I have ever read- I don't really know how to explain why that is, because I don't know myself, but the first time I got it I read it three times in a row, I was so enthralled. While The Devil You Know is a completely different concept, the writing still hooked me, just like usual. Although I thought the premise was a little strange, and I felt that the settings were a little bit forced to get to the final result (it could just be me, but even if I was really mad at my dad, I wouldn't take off to go camping with some strangers, no matter how hot they are), the overall writing and plot development was very enjoyable.
Truthfully, there wasn't a lot of mystery in this book for me. Pretty soon you figure out who the psycho is, and that could be because the author was focused more on the thriller aspect as opposed to the mystery of it, and that is totally fine. Because a thriller it was. Doller keeps you waiting on the edge of your seat, tensing at every opportunity that arises where the killer could strike. That was some intense reading, I'll admit, and there was no better setting for this slow-burning thriller than the desolate swamplands of the Florida Everglades.
When it comes to character development, I'll say the same things as I have for everything else: I felt that they were a little bit forced so that they would all end up in the right situations, but what background you found out about the boys did make sense. I didn't spend a lot of time with the background about Cadie, and I probably should have, but I was eager to get to the thrilling part of it, so I didn't spend a lot of time on the minor details. The side characters I didn't get really attached to, which I was glad about because some of them died- I really hate when my favorite characters die. So I didn't get attached, but it would have made more of an impact if I felt any kind of connection to those secondary people.
The thrill, though, was perfect. Once they were in the Everglades, alone, and things started happening…oh, that was great. I wish there had been a little more of the foreshadowing- creepy sounds in the woods, anything, but even without, it was still an edgy read, with a lot of really interesting details that I would love to find out more about- are these real Florida landmarks? That would be super cool. And then, toward the end, when everything starts happening at once, it twists you up into knots while you try to figure out what's going to happen- if someone else is going to die.
Overall, I really did like this book. I would certainly recommend it for someone looking for a thriller that isn't so graphic you have to wash your eyeballs out after you read it because you can feel the crazy soaking into your brain. So here's what you do have to watch.
WHAT TO WATCH
Violence: Dealing with a thriller can be tricky. There are scenes that can be really tough to swallow, or scenes that are surprisingly tame, comparatively. The Devil You Know met that middle ground pretty well, in my opinion. There were a few scenes that were pretty descriptive- when dealing with a sociopath, some twisted things are going to happen, and I wouldn't recommend it for younger readers.
Romance: Romance is half the reason Cadie goes on this camping trip, and things do get sketchy. She and one of the boys get really close to having sex near the beginning of the book before she stops it, and it does end up happening later in the book. While the first time is more descriptive, the actual act is not described, more implied.
Alcohol/Drugs: The start of the book begins with a teen party, and so there are drugs and alcohol present, and some of the attendees are under the influence of whatever substance they've been using.
That's pretty much it, and of course it's always up to you to decide what to read- I'm just here to shed a little light!
Goodreads | Amazon | Barnes & Noble | Trish Doller on Twitter
Questions? Comments? Books you'd like me to review? Post a comment below and I'll be sure to check it out!