IT'S WEDNESDAY, AND I HAVE A COMPUTER
It's a rare occurrence, I assure you. Usually I'm out and about on Wednesday, but today I'm stuck by a computer. What a sorry life I lead ;). But since I still haven't made it through a book, I've decided to bring out a blog post I've never done, but always wanted to-
Waiting on Wednesday!
This is basically just one book that I'm excited about the release of- and believe me, the choice is very, very difficult. However, for my first WoW, I choose Conspiracy of Blood and Smoke, by Anne Blankman. Her first book was reviewed by me and can be found by clicking on this link. That book is one of my favorites- EVER- and that's a big deal. I've read a lot of books. So here's the cover and summary from goodreads.com: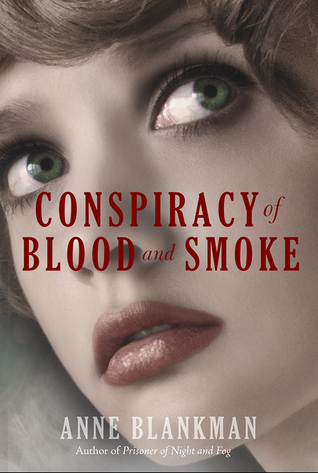 Conspiracy of Blood and Smoke:
     The girl known as Gretchen Whitestone has a secret: She used to be part of Adolf Hitler's inner circle. More than a year after she made an enemy of her old family friend and fled Munich, she lives with a kindly English family, posing as an ordinary German immigrant, and is preparing to graduate from high school. Her love, Daniel Cohen, is a reporter in town. For the first time in her life, Gretchen is content.
But then, Daniel gets a telegram that sends him back to Germany, and Gretchen's world turns upside-down. And when she receives word that Daniel is wanted for murder, she has to face the danger she thought she'd escaped-and return to her homeland.
Gretchen must do everything she can to avoid capture and recognition, even though saving Daniel will mean consorting with her former friends, the Nazi elite. And as they work to clear Daniel's name, Gretchen and Daniel discover a deadly conspiracy stretching from the slums of Berlin to the Reichstag itself. Can they dig up the explosive truth and get out in time-or will Hitler discover them first?
Coming April 21, 2015
Why I'm

Excited:
As mentioned, the first book in this series knocked my socks off. I'm desperate for more- and I didn't think, initially, that there would be more. I'm really hoping that the second book lives up to the wow factor of Prisoner of Night and Fog- if it doesn't, I'll be sorely disappointed.
Questions? Comments? Books you'd like me to review? Post a comment below and I'll be sure to check it out!