"…People in brightly lit places cannot see into the dark."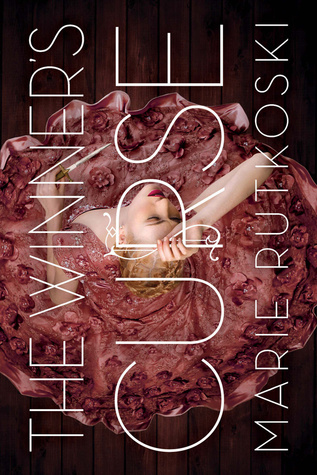 Official Summary: (goodreads.com)
As a general's daughter in a vast empire that revels in war and enslaves those it conquers, seventeen-year-old Kestrel has two choices: she can join the military or get married. But Kestrel has other intentions.
One day, she is startled to find a kindred spirit in a young slave up for auction. Arin's eyes seem to defy everything and everyone. Following her instinct, Kestrel buys him—with unexpected consequences. It's not long before she has to hide her growing love for Arin.
But he, too, has a secret, and Kestrel quickly learns that the price she paid for a fellow human is much higher than she ever could have imagined.
My thoughts: This book. Wow. And again, wow. I understand the praise on the back of this one, which is from two amazing authors. This book made time explode for me. I thought I was reading for about ten minutes, but nearly forty-five had passed. I finished this one in half a day, and I don't regret that time for a moment. I would do it again. Here's why.
     A lot of these books- the forbidden love, the dangerous elite society catching on, etc. are predictable. You know the love story will happen in the first three or so chapters, and what's left is all secret meetings and soft glances, maybe a stolen liaison or two. Not so in The Winner's Curse. The romance develops in the challenges, the angry truths, the realization that even though they can infuriate each other, there's an understanding that overreaches the world they live in, and they will change the world for each other.
     And the writing. Oh, the writing. I am in raptures. Sweeping, elegant, beautifully painful at times, Rutkoski captures what it means to write a novel that takes you into its world. Some authors have a hard time describing a foreign world in a way that makes it both understandable and yet still uniquely beautiful, but this author certainly does not, capturing the essence of the Valorian world and the beautiful, rich culture of the Herrani.
     While I loved the conflict between Arin and Kestrel, the conclusion of the book tugged at me, confused me just a little, and left me…unsatisfied. While we see the reasoning, of course, it still feels just the slightest bit forced, like Rutkoski herself was pained to write it. Contrary to popular belief, if your writing is as good as Rutkoski's, you don't need to end with a cliffhanger, but she did, and it felt so…wrong that I just couldn't appreciate the thrill.
What to Watch:
     The most unsettling thing in this book is the way the Herrani are treated as the slaves of the Valorian, and the descriptions of their rebellion. Many people die, by the sword or by poison, and a popular punishment is the cutting off of the ears and nose. Slaves are also beaten and verbally mistreated, spoken to like animals and insulted to their face. When the Herrani take revenge, they do it with a bloody overthrow, and the violence does continue when the Valorians return to attempt to retake the city.
     This is also a romantic novel, and while there are no scenes of a sexual nature between Arin and Kestrel, they do kiss a few times. Additionally, after the (SPOILER) Herrani revolution, their leader, a man called Cheat, makes unwelcome advances toward Kestrel until Arin comes in and kills him.
    I have a lot of respect for Rutkoski, coming out with a book as stunning as this one. Although the sequel didn't impress me nearly as much (review coming soon), The Winner's Curse will remain in my memory as one of the best books I've read in a long time. Of course, you may have a different opinion, and I would love the feedback!
     Questions? Comments? Have a book you'd like me to review? Post a comment below and tell me what you think!