"You're so scared that you're going to be caged in forever you can't see the way out."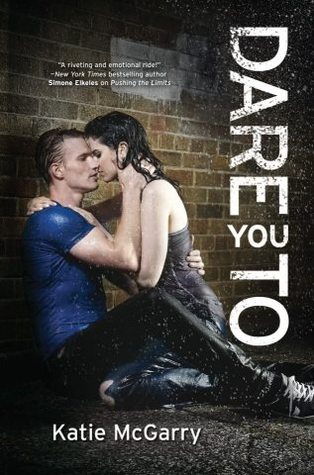 Official Summary:
     If anyone knew the truth about Beth Risk's home life, they'd send her mother to jail and seventeen-year-old Beth who knows where. So she protects her mom at all costs. Until the day her uncle swoops in and forces Beth to choose between her mom's freedom and her own happiness. That's how Beth finds herself living with an aunt who doesn't want her and going to a school that doesn't understand her. At all. Except for the one guy who shouldn't get her, but does….
Ryan Stone is the town golden boy, a popular baseball star jock-with secrets he can't tell anyone. Not even the friends he shares everything with, including the constant dares to do crazy things. The craziest? Asking out the Skater girl who couldn't be less interested in him.
But what begins as a dare becomes an intense attraction neither Ryan nor Beth expected. Suddenly, the boy with the flawless image risks his dreams-and his life-for the girl he loves, and the girl who won't let anyone get too close is daring herself to want it all….
My Thoughts:
This book left me kind of conflicted. I enjoy the way Katie McGarry writes- the alternating perspectives, the intertwining stories through all four of her novels, etc- but this one left me feeling unsatisfied. I didn't like Beth's character in Pushing the Limits, the first novel in the series. I thought she was rude and ungrateful (and she was) and I didn't feel any sympathy for her situation after I found out how bad it was because of her attitude in the first book. Although it was really bad, the way Beth reacted to every single thing that happened really got on my nerves- there's closed off, and then there's just absolutely ridiculous. Ryan is more understanding and sweet than any guy could ever be, and he just seemed unrealistic to me.
I got a little lost in this book, and not in the wonderful way that takes you out of the real world. I was lost in the plot. So much was happening in such short periods of time that I really felt overwhelmed in some places. There were a lot of new characters introduced all at once, so close together that it took me forever to figure out who was who and what their relationship was with the two principal characters, Beth and Ryan. I still haven't figured out a lot of it, and I finished the book. I'm really hoping Crash Into You, book three, lives up to my expectations- expectations brought to life by the fourth book in the series, which, so far, is my absolute favorite.
I guess overall this book was pretty good, but the overwhelming number of plots, the impressions I had already formed from the first book, and the way some of the characters reacted to certain events really cooled my excitement for this one. I'm still eager to read McGarry's upcoming novel, Nowhere But Here, and I think this may have just been the book every author writes once- the one that doesn't live up to the rest.
What to Watch:
Answer: Everything.The language was abominable, f-bombs dropped at least once every page, it seemed. There was sex referenced and then actually done, homosexuality, violence, domestic abuse, drugs, underage drinking, bam bam bam- filling the book with unsavory sections. This was definitely not a good pick for a sensitive reader- or one who'd like to keep their heads clean. While the writing was good, I would not recommend it to a friend simply based on the content. I'm not going to go into details beyond this simply because there was so much, and going over it all would take pages and pages- it would almost be re-writing the book in this blog post. I did like the writing, but based on the content, I can't recommend it. And I didn't love it, anyway.
Questions? Comments? Have a book you'd like me to review? Post a comment below and tell me what you think!