"Maybe the princess could save herself."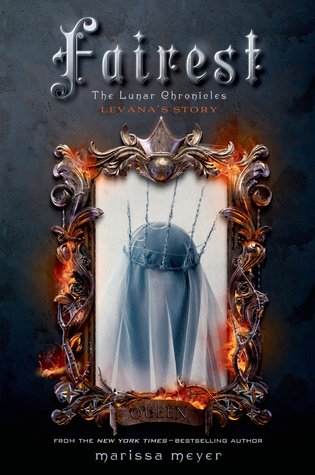 My Rating: PG-13 for some sexual themes, violence, disturbing images, and just plain craziness.
Official Summary: (From goodreads.com)
Mirror, mirror on the wall,
Who is the fairest of them all?
Fans of the Lunar Chronicles know Queen Levana as a ruler who uses her "glamour" to gain power. But long before she crossed paths with Cinder, Scarlet, and Cress, Levana lived a very different story – a story that has never been told . . . until now.
My thoughts: Levana is psycho. I mean, we knew that before, with all her scheming and the insanity that is the Lunar Queen, but this book draws out just how twisted she really is. It was much darker than the previous three books, with little humor and a lot of painful realizations. It's almost difficult to read, and I'll admit that I nearly put it down at a few points and didn't pick it back up because I was so uncomfortable. But that just goes to show how deep Levana's insanity really goes, and has been so deep since she was just fifteen years of age. Anyway, I never put it down, and while it was horrifying in places, it was also a very eye-opening read, letting you see the reasoning behind Levana's cruelty and solving the mystery- finally– of what she really is behind the glamour and the veil.
What to Watch: (SPOILER ALERT)
There are a lot of sexual references in this book. Channary loves to flirt and makes many comments about it, Levana is obsessed with an older man and eventually marries him after his wife's death, and there are many instances where it speaks of them 'going to the bedroom' or engaging in sexual activities, even when there are no graphic details. There is kissing, too, which is unsurprising considering the characters go farther than that.
As far as violence/disturbing images goes, there are some, as mentioned. Channary is very cruel, and used the bioelectric manipulation to hold Levana in a fire, scarring her very badly. The ability to know the inner workings of Levana's mind is in itself a disturbing fact, because her twisted obsession with Evret Hayle goes beyond a childish crush and into a dangerous delusion. And she does not know where the line is, brainwashing Hayle into a mindless drone and forcing him into romantic situations, and finally marriage, all the while believing that he loves her of his own accord.
They do drink some wine (or their equivalent), but there is no drug use and no foul language in this book, which is at least one plus.
Of course, the decision is always yours what to read or leave on the shelf, but I hope this helped in your decision, or at least left you a little more enlightened. I did like this book, but not nearly as much as I enjoy the full novels- Cinder, Scarlet, and Cress. It was a decent filler for the wait for Winter, though, out in the fall of 2015.
Questions? Comments? Have a book you'd like me to review? Post a comment below and tell me what you think!