"The man she had loved as a father was a fraud.
He kissed the back of her hands and advocated war; he had played with her on the carpet with toy soldiers, and all along he had been planning the extinction of an entire people."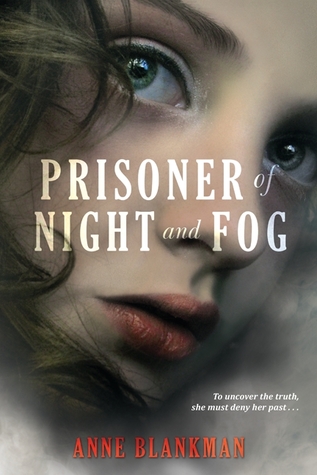 Rating: PG-13 for intense scenes and language (in the form of racial slurs against Jews- it does take place in Hitler's Germany), as well as brief romantic themes
Official Summary: In1930s Munich, danger lurks behind dark corners, and secrets are buried deep within the city. But Gretchen Müller, who grew up in the National Socialist Party under the wing of her "uncle" Dolf, has been shielded from that side of society ever since her father traded his life for Dolf's, and Gretchen is his favorite, his pet.
        Uncle Dolf is none other than Adolf Hitler. And Gretchen follows his every command.
        Until she meets a fearless and handsome young Jewish reporter named Daniel Cohen. Gretchen should despise Daniel, yet she can't stop herself from listening to his story: that her father, the adored Nazi martyr, was actually murdered by an unknown comrade. She also can't help the fierce attraction brewing between them, despite everything she's been taught to believe about Jews.
        As Gretchen investigates the very people she's always considered friends, she must decide where her loyalties lie. Will she choose the safety of her former life as a Nazi darling, or will she dare to dig up the truth—even if it could get her and Daniel killed?

My thoughts: I am in love with this book. I don't normally like Nazi/WWII/Hitler themed novels, but all I can say about this one is…wow. Blankman reaches into the soul and brings out the most passionate part of you, pulling forward every emotion she intends to with ease- compassion, fear, confusion- you never know what's going to happen next. From Gretchen's cold older brother Reinhard to the passion of Daniel Cohen,  the Jew she befriends, to Gretchen herself, every character evokes an intense emotional reaction that leaves your head spinning.
The research that went into this book is incredible, and it shows in the impeccable details you read as Gretchen and Daniel try to find out the truth about her 'Uncle Dolf' and what happened to her father.
There is, of course, some things that may not be considered appropriate for younger readers. As Hitler's 'golden children' Gretchen and Reinhard are fully convinced of the status of Jews as 'subhuman' and Reinhard and his friends get in many fights, as well as calling the Jews by names that are, well, unsavory. People do get killed, and there are brief description of that, as well as some animals (Reinhard is not a nice boy).
There are some romantic themes. Daniel and Gretchen (SPOILER SPECIFIC ALERT) end up in love, and they do kiss a few times. Hitler also makes a move on Gretchen, but she escapes, and there is talk of him being in love with Geli, his half-niece, as well as another young woman.  (END spoiler alert).
Overall, I would not recommend this for younger readers simply because of the nature of the book (1930's Germany was not a child-friendly place), but for more mature readers (13+) I give it a standing ovation for the skillful way the author merges fact with fiction.
Questions? Comments? Books you'd like me to review? Post a comment below and I'll be sure to check it out!
Make sure to follow for more reviews!